Food for Mood & Top Tips for Health
Hello!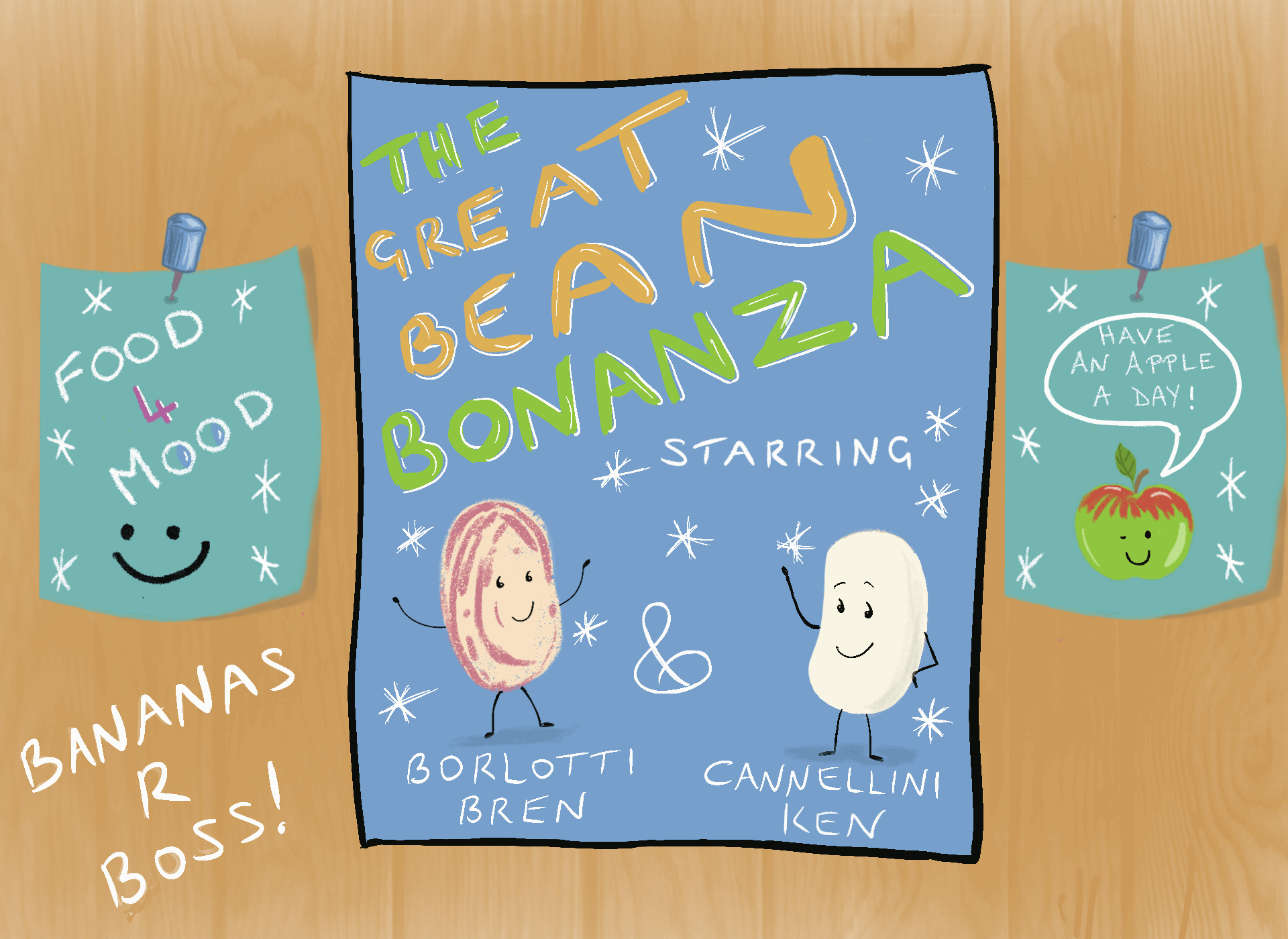 Food Focus: Beans
Beans are very good for us. They have good amounts of protein and fibre, vitamins and minerals and can keep us feeling full for longer. There are lots of different types from haricot - baked beans - to borlotti which have pink flecks.You can buy tins of most types of beans from all the supermarkets.
The information below is from: www.nutrition.org.uk
Adults and children should consume two to three servings of protein every day. If plant sources dominate, it is important to make sure that different types are consumed.
Beans & Other Pulses Chickpeas, kidney beans, lentils (red, green, yellow and brown), peas, butter beans, baked beans, haricot beans, flageolet beans and soya beans.
These are all plant-based sources of protein, and we should be trying to incorporate more of these types of food into our diets.

Pulses can be good alternatives to meat as they are inexpensive, but also naturally low in fat, as well as being a great source of protein, fibre and lots of vitamins and minerals.

As they are a good source of protein, pulses can be a great alternative for those people who don't eat meat, fish or dairy products, and therefore are missing out on the protein these foods provide.
Do they count as one of my 5 A DAY? Yes - one 80g portion of beans, peas or lentils, which is equivalent to around three heaped tablespoons of cooked pulses, will count as one of your 5 A DAY.
However, if you eat any more than this in one day, it will still only counts as one of your 5 A DAY – no matter how much you eat. This is because although pulses contain fibre, they don't contain the same combinations of vitamins, minerals and other nutrients as fruit and vegetables do.

Remember, this doesn't include green beans, such as runner and broad beans, or sugar-snap peas, as these are counted as vegetables and not a bean or pulse for 5 A DAY.
This week's Top Tip: Don't fight your feelings.
Quote of the Week
You don't have to cook fancy or complicated masterpieces - just good food from fresh ingredients.    Julia Child
Mixed Bean Salad (one of Mary Berry's favourites!)


Ingredients - change any you don't like for any you do!
For the salad
For the dressing
3 tbsp olive oil

1 tbsp white wine vinegar

1 tsp sugar

2 tsp Dijon mustard

1 tbsp chopped fresh tarragon

1 tbsp chopped fresh parsley
Method
Put all the salad ingredients in a bowl and mix well.

Mix the dressing ingredients in a separate bowl or jug until well combined.

Pour the dressing over the salad, season well with salt and pepper and toss together.
Recipe Tips The salad will keep, covered, in the fridge for 2–3 days, in fact this will allow the flavours to develop.
Baked Bean Soup Ingredients
60g/2½ canned borlotti beans, drained and rinsed

1 celery stalk, trimmed, chopped

1 spring onion, trimmed, sliced

1 garlic clove, peeled and crushed

pinch dried chilli flakes

25g/1oz tomato purée

pinch stock or bouillon powder

250ml/9fl oz water
Method
Preheat the oven to 180C/350F/Gas 4.

Spoon the borlotti beans into a lidded ovenproof dish and squash with the back of a spoon to loosen the skins. Add the celery, spring onion, and garlic. Stir in the chilli flakes and the tomato purée.

Pour over the water, add the stock powder or bouillon and stir again until well combined. Cover the dish with the lid.

Transfer the dish to the oven and cook for 25-30 minutes, or until the soup has thickened. Stir well before serving in soup bowls with bread and butter on the side, if desired.
Please send any ideas for foods you'd like me to cover or any good, simple recipes you have to:  psswellbeingcentres@gmail.com
Have a good week!